AWI Spring Leadership Conference
In late April, our President, Chad Foster, and Director of Business Development, Tom Choppin, traveled to Omaha, NE for the AWI Spring Leadership Conference. This was a great opportunity to meet with other leaders in the millwork industry as well as non-industry experts through Insight Sessions and keynote speeches.

Over the three day conference, a few of the topics covered were: Maximizing Production, Developing Standards, Branding and Transitional Leadership.
Chad's takeaways, "It was great to hear from speakers covering multiple areas of our market. We learned about the different ways operations function across manufacturers, but most encouraging was hearing that Gator has already implemented many of the practices recommended. There is always room for growth, but it feels good to know we are on the right track. We are excited to utilize newly learned strategies to keep Gator functioning at the highest levels possible."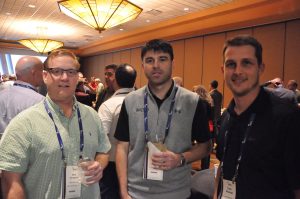 For Tom, what really struck home was the focus on leadership, "The idea that leadership is a choice really hit me. There were many great suggestions around operations, but the areas around defining our success, finding balance and making sure we are being consistent really had an impact. I'm excited to incorporate the ideas presented into our daily operations."
Overall, this trip was a huge success and we look forward to sending a team from Gator next year!