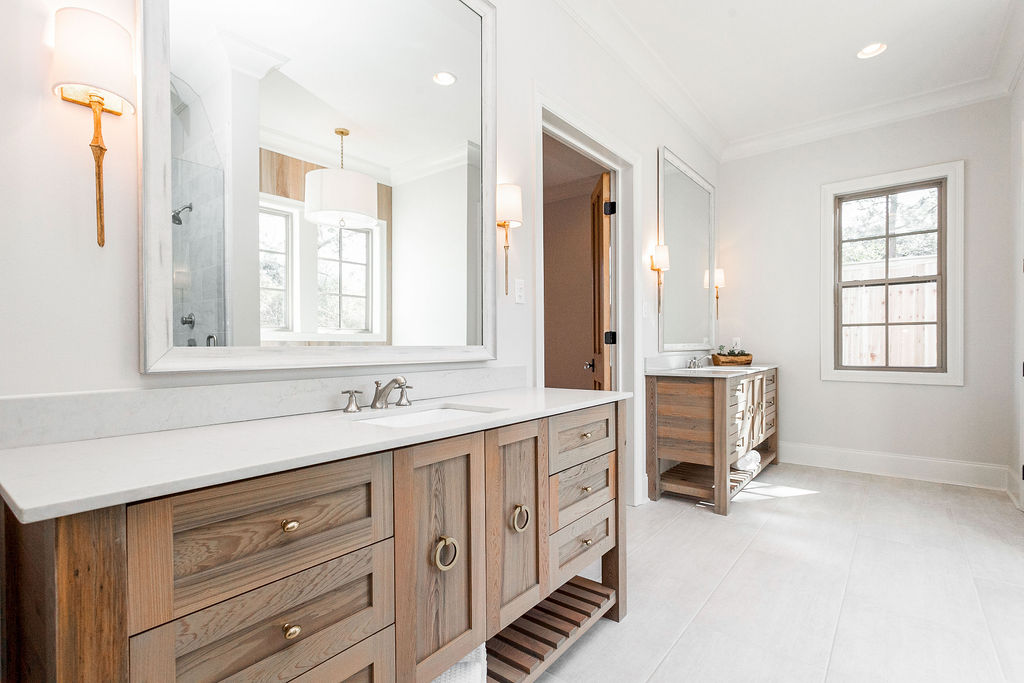 Custom Vs. Prefabricated Cabinets: What to Know
Deciding what type of cabinets to put into your home or business can be a daunting task. What kind of style are you looking for? What's your price range? How much time do you have? How long are you going to be at this location?
These are all important factors to consider when choosing your building's cabinetry, especially if you plan on spending a lot of time in this space. Besides actually choosing your future cabinets, the second-most important decision in this process is deciding whether to go with custom or prefabricated cabinets. What exactly is the difference? Keep reading to find out more!
Custom Cabinets 
What is it?
Custom cabinetry is exactly how it sounds – custom cabinets to fit exactly what you're looking for! With customized cabinets, you can choose even the smallest of details. This includes everything from the stain color, finish, size, detail, and functionality. You can choose whether you want them to have a darker or lighter wood stain, if you want the surface to be matte or more glossy, the type of material, the unique design patterns, how much room it saves and so much more!
Pros:
Customized cabinets offer much more variety than prefabricated ones you can find at traditional hardwood and home improvement stores. Since they are tailored to you, the possibilities are endless. Customized cabinets aren't quickly mass-produced, meaning they are typically higher quality which translates to their durability and lifespan.
Because customization is made specifically for you, you have more creative direction over how you want your space to look. This can be exciting for people who are looking for a really unique or intricate design for their space. This can also be enticing to business owners who can really choose the feel and look of their space to match their brand's personality and style. 
Another great advantage is functionality. Since you'd be working with expert designers and engineers, you can choose how you want the cabinets to act in your space. If you're working with less square footage, it might be important for you to maximize as much space as possible.
This can include things such as modern cabinets which incorporate space-saving designs or even ones that extend all the way to the ceiling or floor. Soft-close cabinets are also becoming increasingly popular these days as they're less damaging, quieter, and safer! Whatever your lifestyle, custom cabinetry can fit your needs and visions. 
Cons:
Like with almost everything, there are also some cons to consider. Since you'd be working one-on-one with designers, builders, and craftsmen, it's going to be a longer process. Collaboration and creation take more time to create. If you're working with a short window of time, custom cabinetry might not be the best option for you. 
Another downside to custom cabinetry can be the cost. Since everything is made and designed specifically for you and your space, custom cabinets typically cost more than prefabricated ones. While this might not be a concern for some, it's certainly something to keep in mind if you're working with a tight budget.  
Prefabricated Cabinets
What is it?
Prefabricated cabinets are cabinets that are pre-made en masse and sold at home improvement stores such as Lowe's or Home Depot. They come in many different styles and colors to choose from and come ready to install. 
Pros:
One of the major pros to buying prefabricated or "prefab" cabinets as they're also known, is the price. Because they are produced en masse for the public, they cost significantly less than cabinets that are made custom for you. This can be beneficial if you're on a budget or even if you aren't planning on staying in your home or business for too long. 
Another pro is that buying or picking up prefab cabinets is much quicker than waiting for custom cabinets to be created and produced. Since you're not working with designers or engineers but instead are simply picking up cabinets from the store, you're going to be able to get your cabinets the same day (this doesn't include options that might not be in store but on backorder, etc.). If you're working with a quick turnaround time, this can be extremely convenient. 
Cons:
While some stores today carry a large selection of styles and designs, those options are still limited to what you can create when you work with a custom cabinet designer. Likewise, most prefab cabinets only come in certain sizes that might not always fit in your space how you'd like them to. If you have odd dimensions or your space is larger, then prefab cabinets might not work for you.
Because prefab cabinets are made in large quantities, the material is typically cheaper. While this is great for your wallet, it means your cabinets are made with lower quality and might not have the lifespan custom cabinets give you.
Unless you want to hire a carpenter to come to your home or workspace to install your cabinets, most prefab options are meant for DIY installation. This could either be a pro or a con depending on the type of person you are and your skill set in carpentry. The cabinetry that you might have bought because they are cheaper now costs you even more money for the installation. 
We understand that a lot goes into making decisions about a place you're going to be spending a large amount of your time in. Many factors such as your budget, your timetable, and your style are going to determine whether you go the prefabricated cabinets route or that of customization.
Whether you're on the fence about which route to take or want to dive right into creating your dream cabinets, we're ready to help you and answer any questions you might have about the process. Contact us today to set up an appointment!