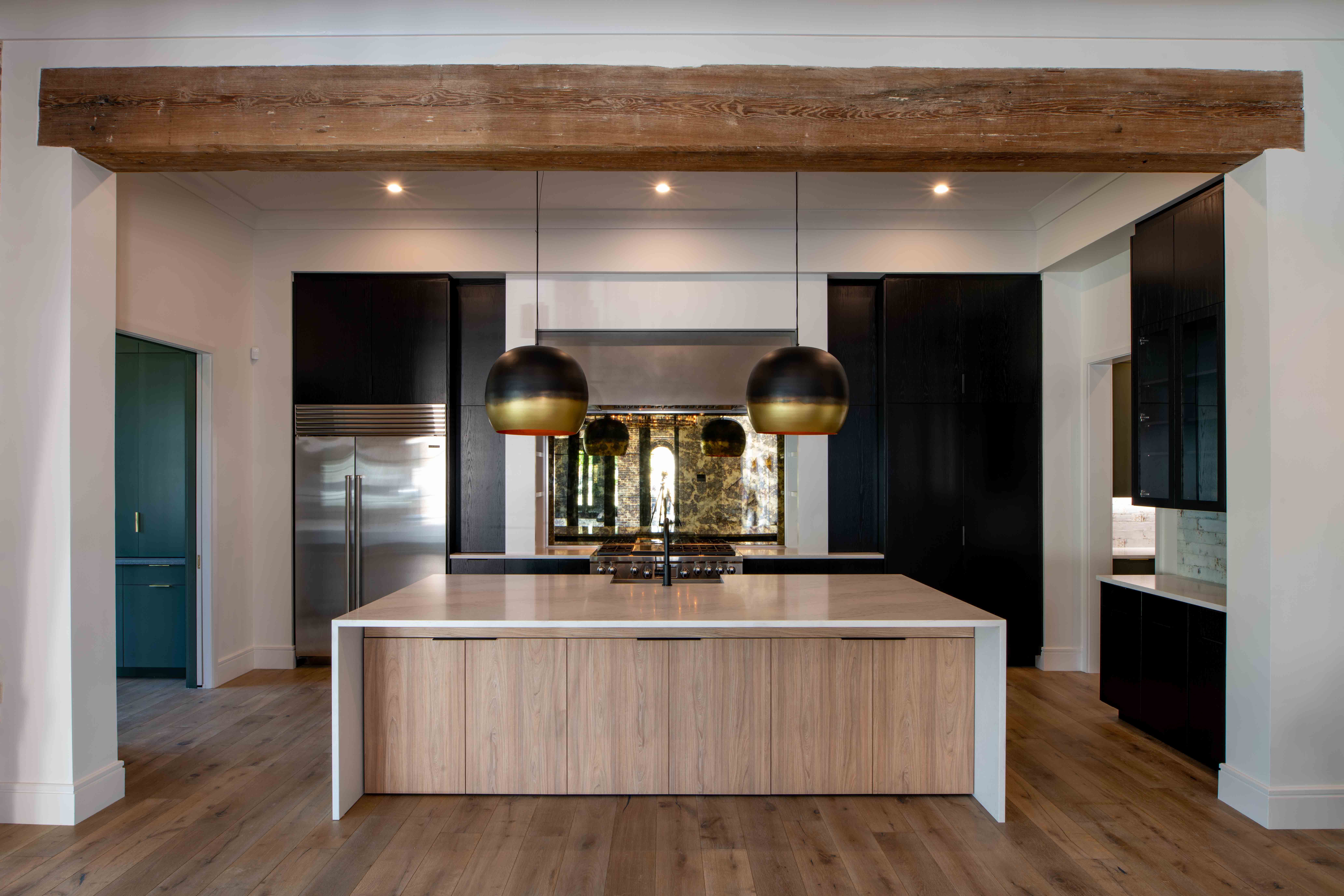 Gator Millworks' Top Modern Baton Rouge Homes
Old World Meets New World
This contemporary home combines traditional elements with a touch of modern industrial to create a crossover living experience. In this project, Gator Millworks incorporated a variety of steel elements to maximize visual interest and incorporate design variety. Ceiling clouds were hung in the dining room over the table to create an open-air feel while still providing the appropriate amount of light for the space. Gator Millworks took a unique approach to the master closet, emphasizing a horizontal layout by using a hanging system with integrated LED lighting. Where most closets have a vertical emphasis, this system allowed us to minimize vertical members creating a sleek horizontal emphasis to the room. The master bathroom possesses exquisite stonework along with the perfect application of light. Sonneman Grapes hang over the bathtub, adding an elegant and modern feel to the room. 
A Sophisticated Farmhouse
This home has many unique features. From industrial-style metalwork to motorized kitchen cabinet doors, the design elements created by Gator Millworks bring a distinctive custom look to this home. Using an ebony black and white horizontal grain combined with hidden lighting, Gator Milllworks created a unique office space in this home. The floating nook just a few steps off the kitchen features a suspended steel wall that adds not only an interesting design element but a sense of practicality to the space as well. The home features a sinker cypress wall cube with black steel floating shelves that conceal the powder room, adding a hidden gem to the home. 
Contemporary Meets Industrial
This home's kitchen features a beautifully crafted floating island surrounded by stunning top-of-the-line elements throughout the kitchen area. This dream kitchen contains graphite countertops throughout, Dacor appliances and motorized hardware. The design vision for this kitchen was to create a modern industrial design with the added elegance of custom veneer, whereas a typical industrial look would contain more rustic woods. The floating steel fabrications that form the island combined with the metal-encased doors contrast with the grain-matched exotic veneers. The end result produced a refined look that brought joy to the client. Taking a look into the master bath, Plain Slice Teak veneers were book and butt horizontal grain flow match across the elevation. This created symmetry from the center of the millwork to the adjacent walls, allowing for a natural organic look. In both the kitchen and the master bathroom, a specialty finish was used to create a very natural, yet durable, close to the wood finish.
A Transitional Contemporary Home
This magnificent home was created by thinking outside the box by using materials that aren't typically used. If you take a look at this beautifully crafted master closet, you will notice a floating effect, adding depth to the room. Many closets are typically finished with paint or are melamine closet systems. In contrast, this closet was finished with a deep dark textured wood grain laminate. This room gives off a masculine elegance that fulfills our clients' dream look. Using REHAU, Gator Millworks was able to achieve a clean and modern kitchen. We are especially loving the black oak with a subtle grain. 
Ready to begin your custom millwork project?