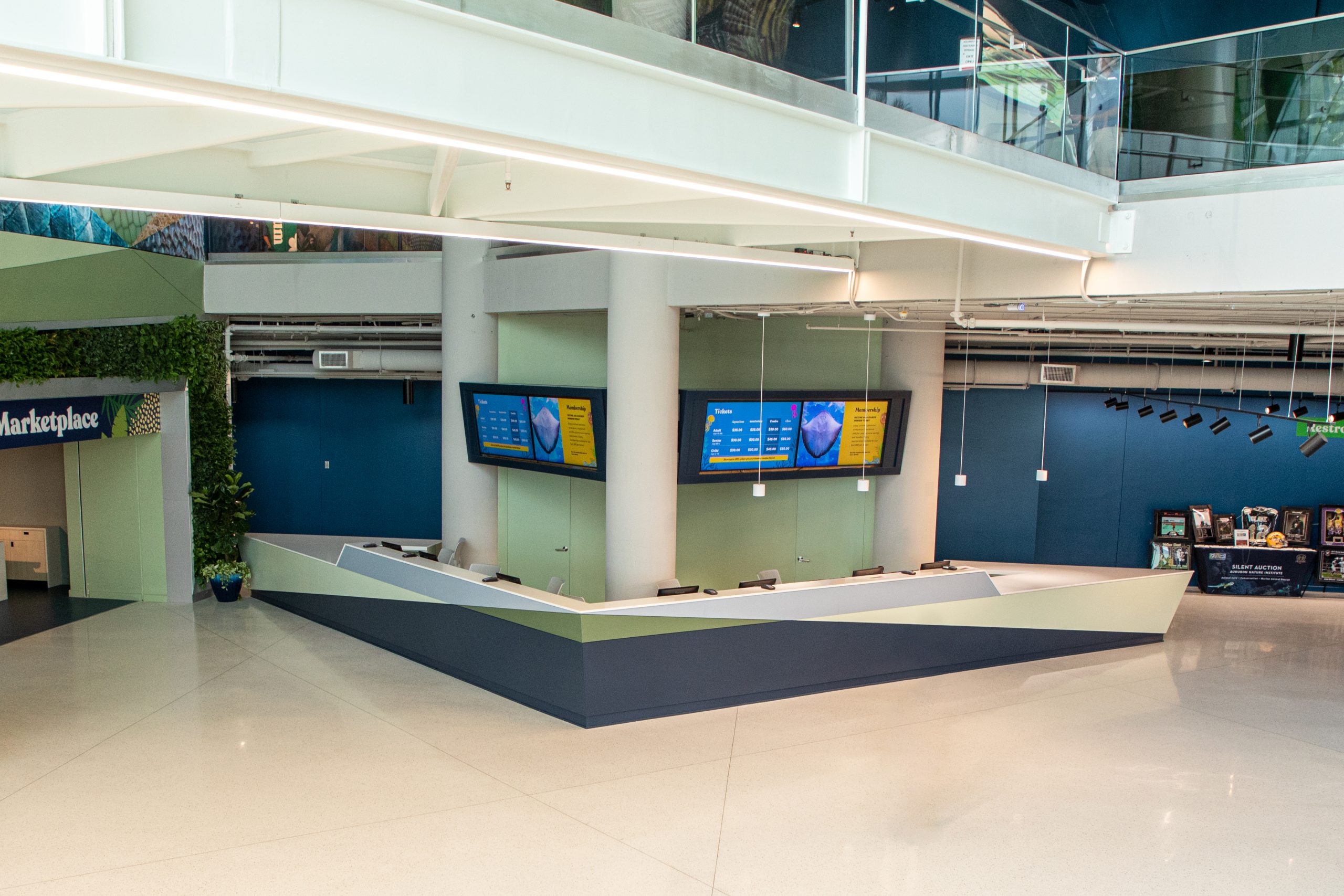 Gator's Work in The Audubon Aquarium & Insectarium
The Audubon Aquarium and Insectarium in New Orleans is considered one of the top 5 aquariums in the United States. Gator Millworks is proud to highlight interesting parts of the reimagined and state-of-the-art work we created and installed.  
Entry Ticketing Desk 
The entry lobby features a large broken triangular ticketing desk with each leg over 31' long and a total of 84LF uninterrupted counter. Completing this work required complex engineering and precise pre-fabrication. This allowed the unit modules to be pre-finished and seamed together on-site. The completed work includes a complicated paint scheme consisting of four colors that traverse the façade and transition between the sloped and flat panel faces. Matching fabrications to house floating display panels are suspended between the building's support columns.




Paint Colors are all by Benjamin Moore 
AF-570 Coastline, CC-932 North Sea, 438 Spring Valley and 441 Alligator Alley
Quartz Countertop: Corian Snow White
Insectarium Bug Appetite
This area features culinary collections from "bug chefs" for purchase. It also includes a large cabinet wall, floating shelves on one side and a shaped front counter designed to hold a poured-in-place countertop on the other. All items were factory-finished and assembled on-site.



Paint Color: Pantone Blue PMS-7705C
Demonstration Space
Used to highlight the metamorphosis of various insects, this area had the challenge of fabricating and installing bent quartz material.
Paint Color: Benjamin Moore 1551 La Paloma Gray
Quartz Countertop: Corian Slate Geo
Other Areas
The remainder of the building consisted of various countertops.
Employee Lounge and Workroom Tops: Wilsonart 4845-60 Twilight Zephyr Plastic Laminate
Countertops in 210/211: Caesarstone Pebble
All other Restroom Tops: Corian Slate Geo