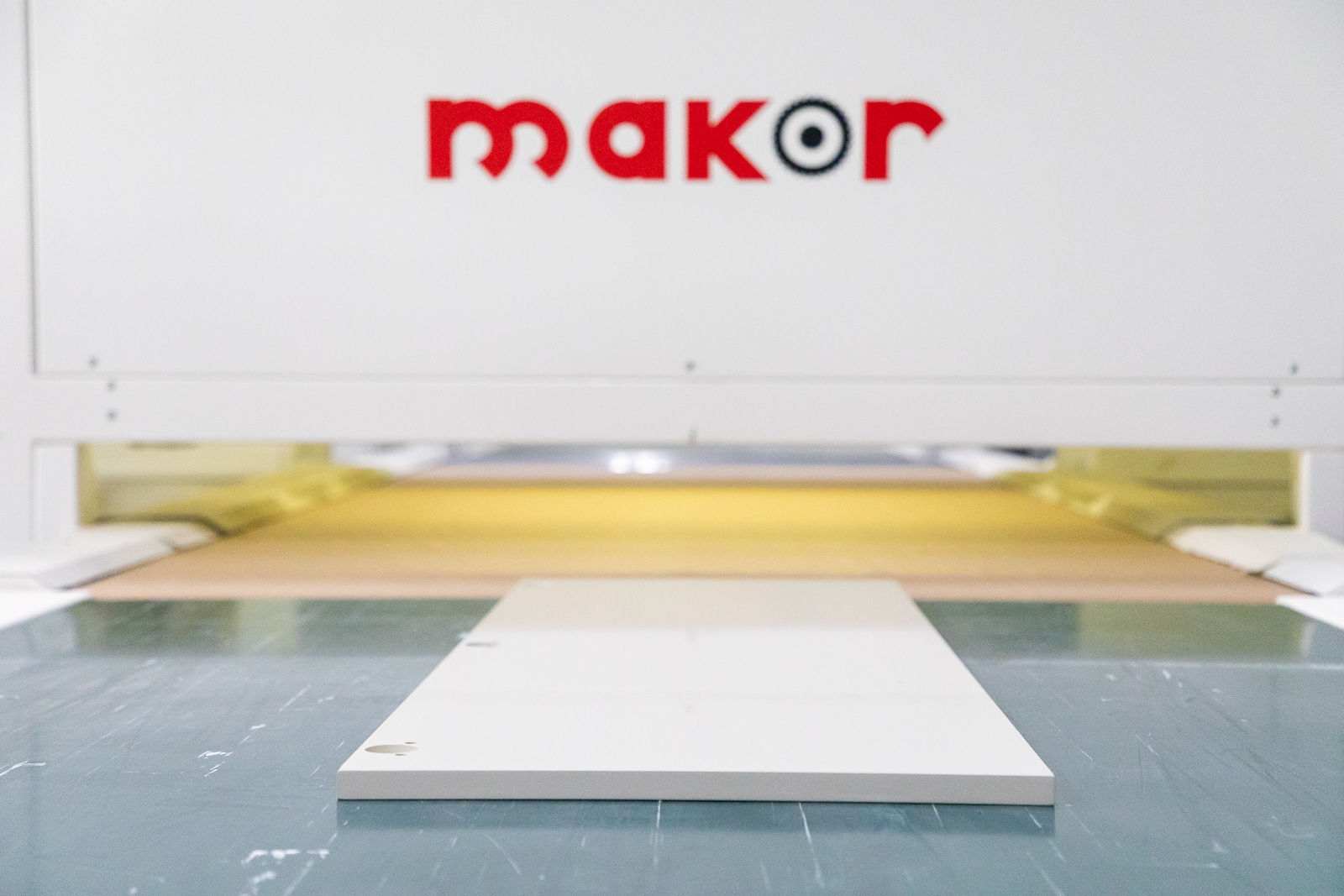 The Benefits of Gator's Finishing Process
There's a lot of work that goes into creating beautiful millwork. And if done incorrectly or more importantly, in the wrong setting, the finished product can end up looking different than expected. That's why we focus on being able to paint, finish, dry, cool, assemble and build casework in-house and with the latest technology to make sure you get the highest quality product. 
Step 1: Painting and Finishing
Back before the technological advances we have in millworking today, we had to paint each individual piece by hand. And while certain techniques can make the paint look smooth and seamless from afar, up close is a different story. 
When painting casework by hand, it's common to discover small brush strokes within the paint—maybe even a brush hair that came off in the process. Additionally, the coating can look uneven and choppy, leaving you with mismatched cabinets. 
To avoid this, we use the latest finishing technology. Our Makor Q-One is able to use its arm to evenly spray every part of the individual pieces placed inside. This results in a smooth, opaque coat that will last without streaks. 
This machine makes it super easy to get multiple panels and profiles done at a quicker rate while allowing us to continue building and creating other amazing projects. It's accurate, precise, clean and looks incredible every single time. 
Step 2: Drying and Cooling

 
Once we finish painting and finishing the materials, we have to let the product dry. However, letting the materials dry in an open, natural space can take hours, if not days to fully dry. In addition, dust and debris are floating around in the air and always manage to find their way into the paint as it's drying. 
These airborne particles contaminate the smooth, clean finish that was recently applied and ruin the material's complexion and color. Besides the messy look, it's also simply unhygienic to have debris harden into your cabinets. 
Instead of the hassle of letting the casework dry naturally, we use our Schubox System for drying and cooling. This technology dries the materials in a fraction of the time. In fact, it dries the material in only 25 minutes. 
Additionally, the Schubox is a controlled environment, meant to dry products in no time and without the added stress of debris flying around. Using heat can actually skim the coating, taking longer to dry. But the Schubox instead uses cool air and infrared technology to dry the material quicker, leaving a stunningly smooth, clean coat. 
Step 3: Assembly and Build
Once each item is painted, finished, dried and cooled, we then assemble the boxes in our shop to prepare for transport. Doing any of these processes at the site can result in uneven coating, messy finishes and uneven drying. 
Having the technology to complete this process in-house helps us to create a stunningly smooth, even and pristine casework that will undoubtedly look incredible in whatever space it's destined for. 
Check out our portfolio to get inspiration for your next project or contact us today with any questions you might have.