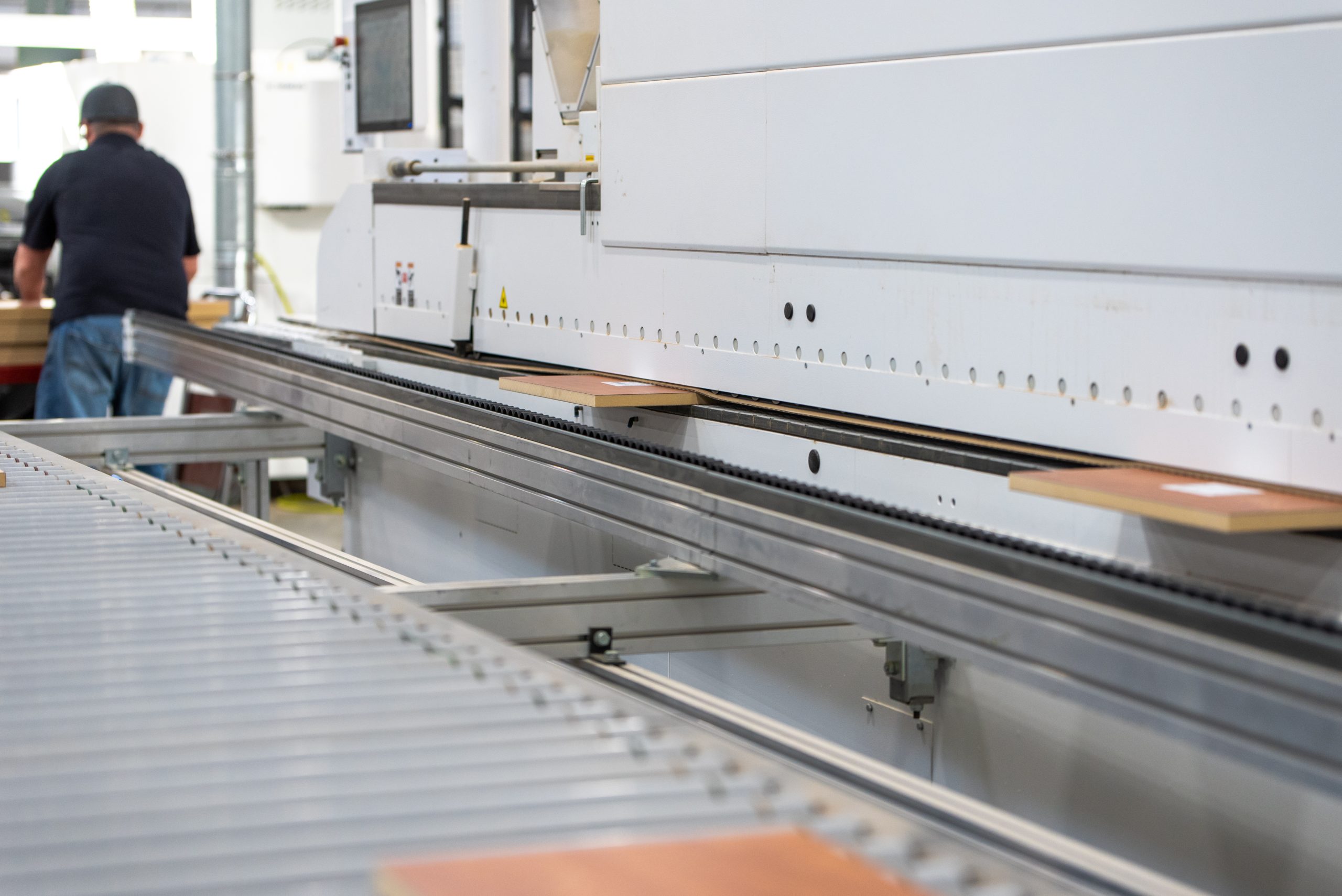 The Benefits of Laser Edgebanding
For years, glued edgebanding has been the primary technique used to adhere to the edges of casework and cabinetry. However, glue squeezed out can make things difficult to clean, can cause delamination and discoloration over time and even harbor bacteria, making it a health hazard. 
However, technology has evolved and so has Gator, with evolution comes innovation. Since opening and moving to our new facility in 2020 and after the flood in 2016 completely destroyed our previous space, Gator has invested in acquiring a state-of-the-art laser edge bander that produces zero-joint cabinetry. 
This piece of equipment is an important key to making high-quality, long-lasting cabinetry and casework that looks amazing and is easy to clean. The first step in creating those pieces starts here—with laser edge banding.
REHAU, along with Stiles Machinery and Homag, created and unveiled the Homag LaserTec in 2010. This allowed woodworkers and millwork shops to implement a whole new woodworking solution that is cleaner, more precise and more durable. 
The Process:
A laser is aimed at a mirror, reflecting onto the edge bander. The heat from the edge bander (1200ºF and 650ºC to be exact) then melts the functional layer onto the substrate. This ultimately creates a seamless and permanent bond.
Benefits:
Infectious Control
Probably the most important benefit is that laser edgebanding helps with infectious disease control. It is far more hygienic than traditional glue edgebanding. Glue is porous and collects harmful bacteria over time.
Since laser edgebanding is seamless, there is no room for bacteria to hide or form. This makes laser edgebanding ideal for restaurants, hospitals and all healthcare facilities as it can help control the spread of infectious diseases and keep patients healthy.
Minimizes maintenance
Instead of having to routinely clean and repair the glue edgeband, laser edgebanding seals the edge into a seamless and permanent state. This ultimately reduces maintenance efforts and costs.
Increased heat and moisture resistance
The durability and strength of the bond create a higher heat and moisture tolerance.
Permanent and invisible bond
Unlike glue edgebanding that can peel off or show discoloration, laser edgebanding is permanent and creates and invisible seam to the edge.
Seamless 
Precision is key. The laser creates such a close match that the line between the edgebanding and the substrate is seamless.
No dirtying or becoming yellow
Glue has a tendency to discolor over time as it collects dirt and other particles. Because of this, it can harm your health as it harbors bacteria.