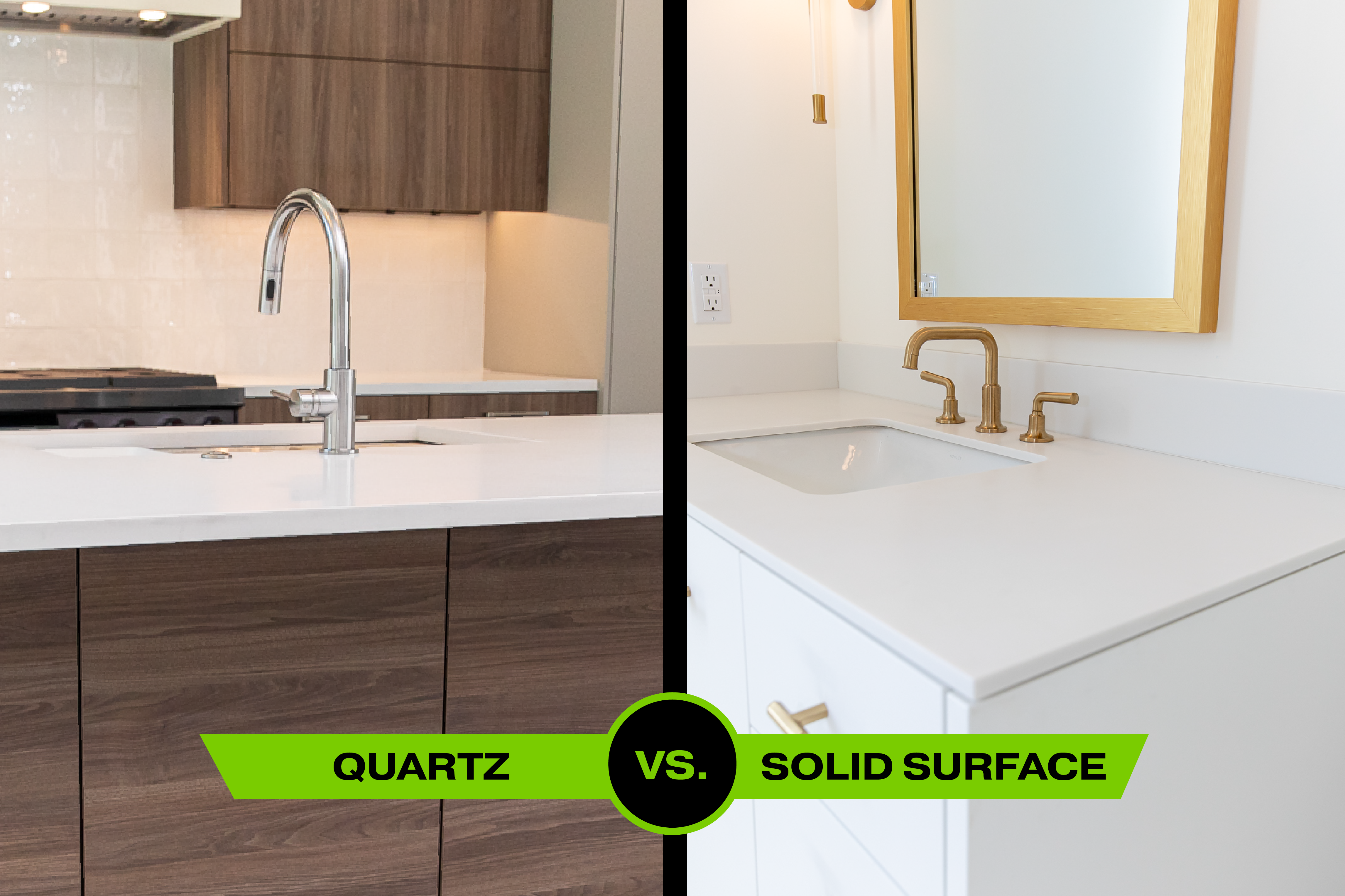 The Difference Between Materials: Solid Surface VS. Quartz
Choosing the right material for your cabinets, countertops, and other surfaces is essential. It affects the functionality and aesthetics of your home or commercial office. 
But which surface material should you go with? What's the most cost-effective? Will it match your style? What's the maintenance like? 
Well, we're glad you asked.
Solid Surface

Material
Solid Surface material, also known as Corian, is an engineered stone material that is made of nearly 33% resin and 66% natural stone-like materials. Resin, in the simplest of terms, is a moldable plastic. In addition, the overall look of the material has a matte finish.  
Solid Surface has a high percentage of resin which makes it fairly lightweight. On average, it weighs around 5 lbs per square foot. Since a large part of the material is resin, it is very soft and smooth. However, this softness also makes it easier to scratch.
Since Solid Surface is softer, it has a higher chance of succumbing to heat. Due to the higher concentration of plastic in the surface material, it has a greater probability of melting or changing form. However, this can be beneficial when creating intricate designs or patterns into your Solid Surface. Implementing unique designs really shows character and looks great as a wall paneling or accent on a desk.
Maintenance
Even though Solid Surface is soft, it is also easier to repair. Simply sanding down the material with a sander or even sandpaper will make the scratch disappear. In addition, you'll need to polish and fabricate the surface from time to time to keep its original appeal. 
Solid Surface is non-porous, meaning it's very easy to clean. In fact, Solid Surface material is even certified by National Sanitation Foundation (NSF) for its hygiene.
This makes it perfect for hospitals or healthcare settings as it helps control the spread of infectious diseases. Besides it being non-porous, it's also easy to clean! Simple soap and water is all you need.
Cost
When it comes to price, there isn't a huge disparity between the two materials. However, Solid Surface material is typically a little less expensive than quartz. Obviously prices will vary depending on the colors and patterns you choose, as well as the size and dealer.
Solid Surface material is more prone to scratches and wear and tear. This increases the potential for more money spent on repairs and upkeep in the long run. This is, in-part, due to the polishing and fabrication that you'll need to do every few years. 
But don't worry! Sanding down imperfections or applying a polish shouldn't break the bank. In fact, a polishing kit and 60 piece sanding pack will each cost you less than $100.
Quartz

Material
Quartz—similar to Solid Surface—is not one single material. While Quartz is also made of resin and natural materials, the percentage of each is vastly different from Solid Surface. Quartz is made with only 5-10% resin and 90-95% natural minerals. It also has a more glossy, smooth finish than Solid Surface, which is more matte.
Because of its percentage of natural stone-like materials, Quartz material is heavier than Solid Surface. In fact, Quartz surfaces are more durable than natural stone itself, which is more brittle and prone to chipping or cracking. 
In addition, Quartz has a higher heat resistance. Quartz is not immune to damage from heat. It simply requires a higher temperature to affect its integrity.
Maintenance 
Quartz is also non-porous, hygienic and doesn't harbor bacteria. Simply wiping it with a cloth, warm water and soap should do the trick.
When it comes to maintenance, Quartz surfaces might be slightly more difficult to upkeep. This is in part due to the material's scratch-resistant nature. Because the surface is tough, it takes more effort to scratch it. 
However, this also means it's harder to repair in the event you do scratch it. The surface is tough, so sanding it down is not likely an option. Instead, use a cream wax polish to fill in light scratches and buff it accordingly. Unfortunately, if the scratches are too deep, you might need to call in a technician to professionally repair your surface. 
Cost
Quartz is usually more expensive as it resembles natural stone more. Its weight also plays a factor in the overall price of the material as well.
Price also varies depending on the color, style and size of the material you're wanting to purchase. Additionally, the scope of the project and the company you're working with can also sway the overall cost.
In addition, Quartz tends to have a higher Return On Investment, or ROI, when selling a home or business. Think of Quartz as an investment rather than a cost. Solid Surfaces are great at mimicking other materials. They can make a great substitution if this isn't something in your current budget.
Recap:
Both Solid Surface and Quartz are similar in many ways. Both materials are non-porous and hygienic. Their cost is relatively similar and they are composed of more than one material. However, they do have their differences as well.
If you prefer natural elements in your home decor, quartz may be a better choice. It is also more durable and can withstand rougher use. If you're on more of a budget, love a matte finish and something highly customizable, then Solid Surfaces are great. 
Have you decided on the material for your home or business? If not, don't hesitate to contact us for a consultation! We're here to help you choose the best materials and style for your space.