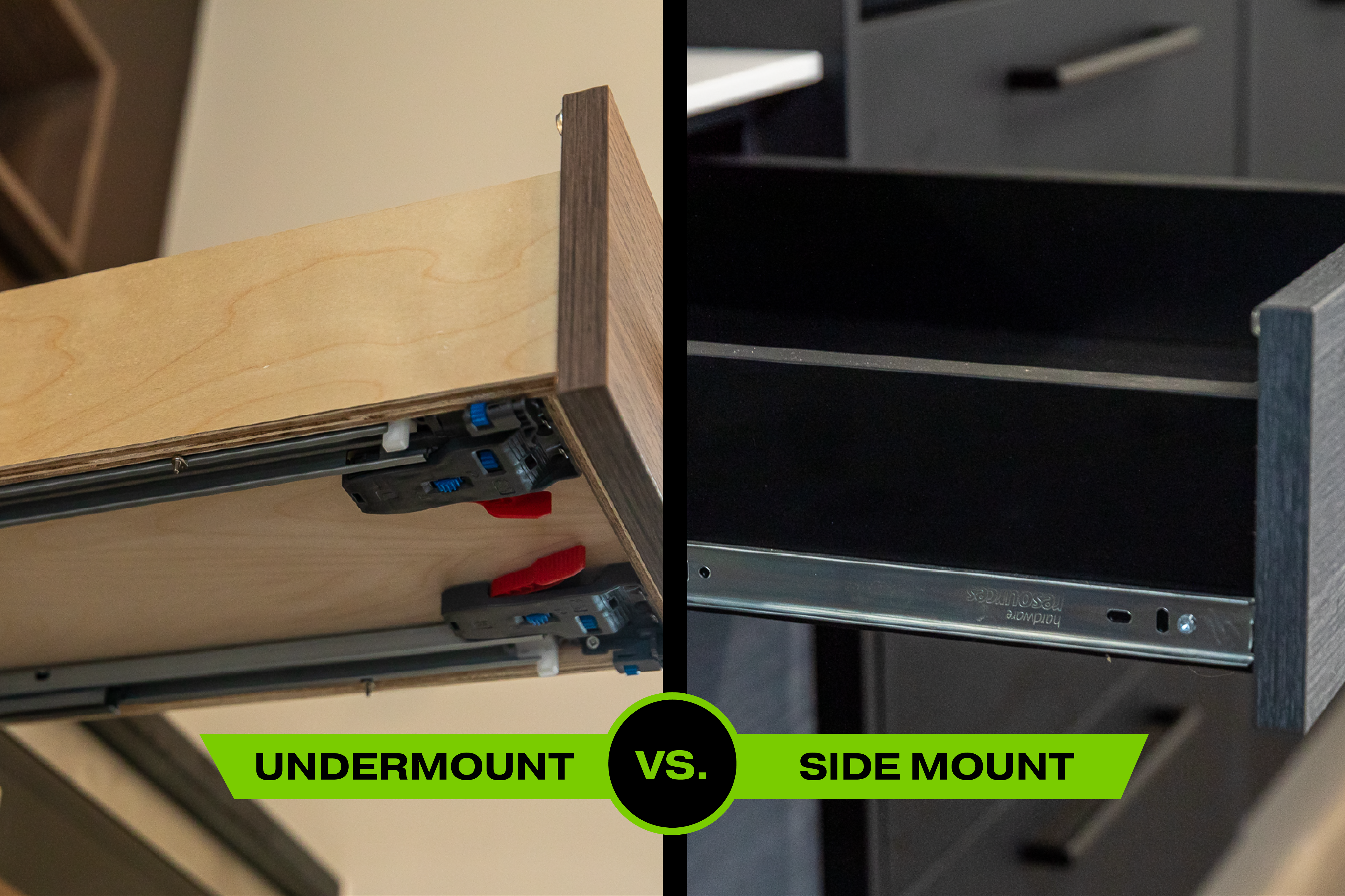 Undermount vs. Side Mount Slides: Which Choice Is Right?
Millworking involves a lot of moving parts, both literally and metaphorically. Ensuring that every aspect and feature is exact is crucial in creating custom, hand-crafted cabinetry. While hinges, wood types and finishes all play their undeniably important roles, a subtle—yet crucial—decision remains: the type of drawer slide to use.
Think about how often someone opens and closes a cabinet drawer each day in their home or office. This includes drawers in kitchens, bathrooms, offices, workshops and other rooms. Now add the number of people they might work with, live with or share common spaces with and suddenly, choosing the right drawer slide seems more important than ever. 
Style
At the heart of designing high-quality cabinetry is finding the balance between functionality and design. Side mounts, although highly functional, are attached along the drawer's side, making them a noticeable part of the cabinetry's appearance. And while they are popular in traditional designs, they may obstruct more modern styles such as minimalistic, clean, or sophisticated designs.
In contrast, undermount slides remain subtly hidden beneath the cabinet drawer, allowing the design, material and finish to take center stage. Their concealed nature adds a softer element and makes them a preferred choice for those seeking a sleek, consistent look. Additionally, they allow the craftsmanship of custom cabinets to shine without added visual distractions.
Space
In compact living or working conditions, maximizing space is essential, and the goal may even be to create the illusion of a larger space. Side mount slides, by design, encroach into the available space, which can be a significant concern in smaller areas where every inch counts.
On the opposite side, undermount slides are space savers. Their convenient position underneath your cabinets means they don't compromise the drawer's storage capacity. When in close quarters, undermounts offer more of an advantage—optimizing your space and allowing you more room to breathe.
Functionality
Though side mounts have served—and continue to serve—traditional cabinetry well, they do come with their set of challenges when it comes to operation. Due to the location of the slides, it's necessary to push against the middle of the drawer for proper closure. Pushing against one particular side can cause the drawer to lock, close incorrectly or even break. 
Undermount slides are often synonymous with smooth operations due to their advanced engineering and placement. The slides operate seamlessly, ensuring the drawer's movement is fluid and consistent. This also eliminates the need to close the drawer from the middle of the cabinet each time.
Features
Modern cabinetry demands silence or at least a significant reduction in noise. Because of this, many side mount slides have evolved to incorporate the beneficial soft-close feature, which helps combat loud slamming drawers. However, this feature typically has to be added on, as not all models come equipped.
In contrast, undermount slides are practically designed with soft-close in mind. Their inherent design dampens the closing impact, resulting in a slower and more gentle close each time. This consistent and quiet operation adds a touch of luxury that's hard to overlook.
Durability

 
Side mounts are undeniably sturdy. They're meant to hold a lot of weight and in fact, are great additions to garages, utility rooms or places that are used to store heavier objects. However, their design requires more upkeep and maintenance to make sure they are functioning properly. On the other hand, the undermount slides' design inherently minimizes friction points, leading to reduced wear and tear over time. Crafted with precision, these slides offer longevity. This means fewer replacements, less maintenance and long-term savings—a trifecta that's hard to beat.
While side mounts have their space, especially in certain design contexts, undermounts offer undeniable advantages across the board. Their aesthetic appeal, space efficiency, user experience and durability make them a compelling choice for both craftsmen and end-users. 
Check out our portfolio to see more of the work we do at Gator. If you have any inquiries about upcoming projects or builds, don't hesitate to reach out to us. We're here to help in any way we can.